Yorke Peninsula Visitor Information Centre
Training x Design delivered a customised sales training and customer service program for the Yorke Peninsula Visitor Information Centre in Minlaton, SA. The centre has a few permanent staff along with several volunteers. All staff enjoyed their workplace and had great teamwork.
These people are good communicators who enjoy advising customers on accommodation in the area, but who require further development with their abilities to close the sale and make a booking.
In consultation with the business Training x Design developed a one day workshop that specifically targeted the skills that the Visitor Centre staff needed in order to provide excellent customer service while finalising the sales process.
It involved incorporating the unique challenges of serving customers within the tourism industry and staff that are mostly volunteers and give up their free time to work at the centre.
The training needed to fit into this unique climate and be engaging without too much prescription so that the volunteers felt the right balance of feeling motivated to develop their sales techniques without any pressure.
Training x Design's program included customised scenarios and activities based on the business challenges and outcomes as well as a unique title for the workshop:
How to sell eggs like Linda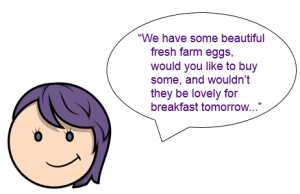 This title was suggested by the client as a way to recognise a fabulous volunteer who has the ability to sell a dozen eggs to anyone who visits the centre.
The learning outcomes:
Define what is Quality Customer Service
Recognise the impacts of Customer Service
Identify your own Selling Style
Communicate Effectively with Customers
Use a Range of Approaches to Customers
Connect With Customers by building rapport
Analyse Customer Needs
Identify Opportunities to Promote Products and Recommend Solutions
Identify Buying Signals
Close the Sale
A small group of 9 participants provided a customised learning experience with the ability to tailor the learning to their specific group needs. It also ensured that the knowledge and skills were able to be transferred immediately into the workplace.
It was a privilege to help this wonderful group of people find new customer service and sales techniques as well as boost their confidence.
Feedback from the client: Centre Manager
I appreciate you coming over and doing the training for us. It was a great opportunity for us to get all our team together in the one place – doesn't happen very often! Gina is great at what she does. The training was relevant to what we do in the visitor centre. Her passion for training shines through.
Participant Feedback
I enjoy the discussion regarding the different examples and situations in other organisations
I liked the delivery, informal style and opportunity to discuss & interact
Bubbly presentation didn't feel pressured
I liked discovering my selling style and the classification of customer types. So when they enter the building I can start thinking how I might help them in a way that matches their personality
The style of presentation – kept it interesting
Interactive presentation using relevant examples
I liked the friendly informative way the course was conducted. Plenty of interaction between attendees
Thank you Gina, very informative session :)
Loved it! Lots of great reminders
Very good. Good use of relevant examples