Think more, do more, feel more.
Real Learning Solutions lead to thinking, doing and feeling differently. Training x Design believes that training is only successful when there is a positive change to the people involved. Learning only happens when it results in people being different than they were before.
Training solutions that help people to become more than they are today
A confident, skilled and innovative workforce will give you the competitive edge you need. Investing in staff will bring you real results and can help you develop a sustainable and growing business. We customise our training to meet the needs of your business and staff, working with you every step of the way.
We follow a four step to business success procedure;
Consultation; we discover the unique attributes of your people and business
Designing the training solution, addressing your core business goals.
Deliver training directly to your employees in a positive environment.
Ensure lessons from the training are utilised in the workplace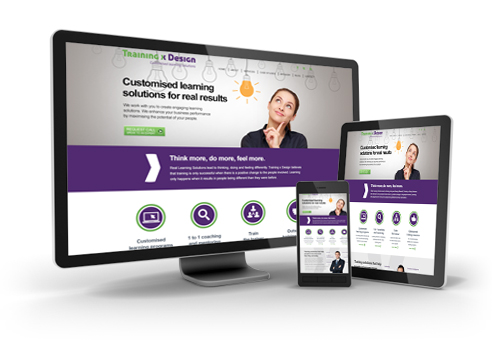 Why choose us?
Training x Design offers a unique and innovative training solution. You stay in control and determine the learning outcomes based on your business goals. We offer a flexible service working with individuals, groups, trainers or as facilitators. Training x Design is passionate about bringing out the best in people and in turn allowing you to see real results in your business.
What our clients say about us
I would certainly give Training x Design a 10 out of 10. Simply because a lot of time and care was take into target our specific needs for the STAR program. We got the relevance we need to assist in the success of the overall program.
Working with Training x Design was money very well spent.
Training x Design developed a sales and customer service training for our visitor centre. The training was expertly tailored to our needs. Feedback from the team indicates that everyone enjoyed the day and felt that it was definitely worthwhile.
Increased number of paid interventions from 22 – 150 per quarter – direct result attributed tothe training provided by Training x Design.
We definitely made the right decision going with Training x Design
The trainer allowed time for discussion which was appreciated. The content was presented well considering the time allowed for the session
I was blown away by the professionalism and ability to make things happen throughout this entire consultation process. The learners not only gained valuable customer service skills but have come away with a different approach and attitude and their confidence has grown and our customer feedback is better than ever.
This program gave us exactly what we were after: A consistent sales approach across all centres. The feedback from staff was great. I'm still hearing about it. The only improvement from our end is that we should've done it right a long time ago.
It was a great opportunity for us to get all our team together in the one place – doesn't happen very often! The training was relevant to what we do in the visitor centre. Gina's passion for training shines through.
Gina has a wide knowledge base and always implements a well thought out program for training. She is really good with the staff, keeps them interested. Her workshops are fun but she allow enough structure for personal/team reflection. She keeps her knowledge base up to date and her methods are always current and innovative. Highly recommended.
The presenter is one of the best I have been involved with in 20 years, her ability to remember the students names was endearing and her sense of humour was great. The training was more geared to the practicality of our unique circumstances which a lot do not. Congratulations!!
An excellent, valuable course, made into a fun topic of discussion by the trainer. I found this course to be extremely relevant to both work and daily life.
The quality of the course was outstanding. A lot of valuable and useful information, well prepared, good reference material, good balance between theory and examples, very useful to improving workplace communications.
Find out how we can help your business...
Speak to one of our helpful consultants. Get in touch today!